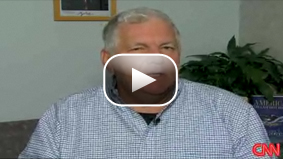 CNN contributor Bill Bennett talks to CNN's John Roberts about President Obama's seemingly unscathed image.
President Obama hasn't shied away from controversy during his first hundred days, but a keen ability to rebound from criticism has some critics wondering why the outrage doesn't stick. CNN Political Contributor Bill Bennett is the author of "The American Patriot's Almanac." He spoke with John Roberts on CNN's "American Morning" Thursday.
John Roberts: The president attracted a fair amount of controversy at the Summit of the Americas in Trinidad and Tobago last week when he shook hands and was all smiles with Venezuelan President Hugo Chavez. It prompted Jonathan Martin in Politico to write, "Several times a month in his young presidency, Barack Obama has done things that cause conservatives to bray, using the phrase once invoked by Bob Dole, 'Where's the outrage?!'" The president seems pretty Teflon in his first hundred days. A lot of stuff just kind of bounces off of him.
Bill Bennett: Yeah. The American people are giving him a lot of breaks. It is the first hundred days. They like him. They voted for him. They elected him. They want him to succeed. All of that is understandable. The second hundred days is going to be different. These are no longer matters of photo-ops with Hugo Chavez. What he has unleashed with the CIA interrogation memo is the furies. This is going to be a major issue and I think an embarrassment and problem for him. Maybe more important, you know, CNN has been great on this, covering the situation in Pakistan. This is the real world. This isn't the warm-up now. This isn't rehearsal. This is the real game now. If the Taliban moves in on the capital of Pakistan, we are talking about serious international crisis, and then we'll find out about our Commander in Chief.
Roberts: Mitt Romney wrote about foreign policy in the National Review online taking on President Obama saying, "The leader of the free world has been a timid advocate of freedom at best. And bold action to blunt the advances of tyrants has been wholly lacking." He slammed him for a number of different things: acquiescing to a fifty minute rant from Daniel Ortega at the Summit of the Americas, and not doing anything in response to North Korea's missile test, not holding Iran's feet to the fire, trying to open dialogue with them. But a lot of people might say after eight years of Bush Administration policy, this country needs to go in a different direction.
Bennett: Well, you know, that's the argument and that was the argument in the election. I think we were safe. I think we were doing pretty well, actually. The problem with Obama, as far as I'm concerned, and I really try to give him the benefit of the doubt, I didn't just jump on him right away, is when he goes to Trinidad and Tobago it seems to be himself that he wants to talk about; not the United States of America. It's like he is in campaign mode. It's about him. He preens for himself but he doesn't seem to instinctively want to talk about and defend the government of the United States, the people of the United States. He is America. He is not the candidate anymore. And he better be very careful. It is unprecedented what he did in Europe, to go to Europe and be on foreign soil and apologize for all of the errors and faults of the United States. Again, he's getting a break. It's the first hundred days but four years is a long time.