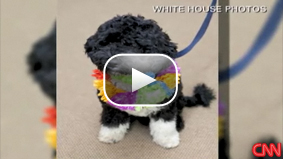 First lady Michelle Obama gives an update on the first dog, calling him 'crazy.' CNN's Alina Cho reports.
Bo Obama is apparently Issue #1 among third grade voters.
The first dog was a hot topic at the White House yesterday, when Michelle Obama held what she's called her "first press conference" with the children of White House staffers. The kids were invited there in honor of Take Your Child to Work Day.
One of the first questions to the First Lady was about how Bo was adjusting to his new home.
Michelle Obama described him as "a crazy dog." Bo "loves to chew on peoples' feet," she said. Mrs. Obama told a story about the night before, when Bo was apparently barking loudly in the White House residence.
"Everybody was asleep, and we hear all this barking and jumping around. The President and I came out and we thought somebody was out there. It was just Bo. And he was playing with his ball, and it was like there was another person in the house."
The first lady says that she's spending a lot of time walking and training Bo these days, but of course, he's still a puppy.