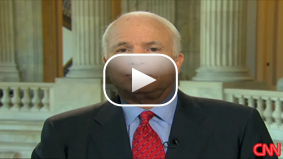 Sen. John McCain disagrees with any possible prosecutions over the release of Bush-era torture memos.
We had a chance to talk to Senator John McCain today on the show.
He was and still is a fierce opponent of interrogation tactics used during the Bush administration. Tactics like waterboarding, which he says is torture. But this POW also says getting bogged down in a politcal blame game over the past gets us nothing.
He also weighed in on what it was like in the final weeks of the campaign when the chance of victory seemed to be slipping away. And, of course, we had to ask him about his daughter Meghan, the "new" voice for the GOP.
I'm taking a long weekend. See you Tuesday!
Kiran