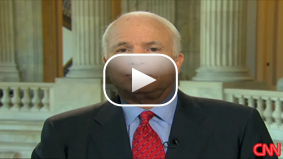 Sen. John McCain disagrees with any possible prosecutions over the release of Bush-era torture memos.
The Defense Department will release "a substantial number" of photographs of alleged prison abuse in Iraq and Afghanistan, according to the American Civil Liberties Union.
The new photographs could change the course of the political uproar over allegations of torture during the Bush era. Yesterday, Attorney General Eric Holder went before Congress and weighed in on holding accountable the people who approved techniques like waterboarding.
"I will not permit the criminalization of policy differences. However, it is my responsibility, as the attorney general, to enforce the law. It is my duty to enforce the law. If I see evidence of wrongdoing, I will pursue it to the full extent of the law."
Former Presidential Candidate and Senator John McCain (R-AZ) has called waterboarding "torture" in the past, but he disagrees with prosecuting any former Bush administration officials. He spoke with Kiran Chetry on CNN's "American Morning" Friday about any such prosecutions, saying they would set a "terrible precedent for the future."
Kiran Chetry: What do you say to the Bush administration officials who call waterboarding "enhanced interrogation" and say it doesn't cause any real harm?
John McCain: Well, I disagree. And that's why we passed a thing called the "Detainee Treatment Act," which prohibits cruel, inhumane, or degrading treatment. And the Geneva Conventions, which is for the treatment not only of uniformed but also enemy combatants, prohibits such treatment as well. But the point is, now, it's time to move on. The president went to the CIA and said people who were engaged in that would not be held responsible... We should move on. And to go back and hold people criminally liable for their best legal advice they gave to the President of the United States is unacceptable to me.
Chetry: Paul Krugman wrote in "The New York Times" that the "only way we can regain our moral compass... is to investigate how this happened and, if necessary, to prosecute those responsible... We need to do this for the sake of our future... It's about reclaiming America's soul." What about that morality question that while it may be a bad political fight, it's something we have to do?
McCain: I'm not talking about political fights. I'm talking about the fact that people who give their best legal advice, even if it's wrong, being held criminally liable. That's what they do in banana republics, not in the United States of America. This has been investigated. The Senate Armed Services Committee issued a report and there've been other memos which have been revealed. Everybody knows what happened. To go back again would be an act of political vengeance and America doesn't need that right now.
Chetry: There's been talk about whether or not more memos coming out will make America less safe, that theywill play into the hands of our enemies. Do you think the more we talk about this and the more it comes out we put our national security at risk?
McCain: Well, I think there's a time for closure. There is a time for closure on everything. President Ford pardoned Former President Nixon. That was strongly disagreed with by the liberal left at the time, yet, turned out historically to be the right thing to do. It's time to bring closure. We know about it. We know, in my view, it was wrong to do. But now to say that you're going to tell lawyers that they're going to be prosecuted criminally for the best advice, even if it was bad advice, that they gave the President of the United States, to my mind, sets a terrible precedent for the future.
Chetry: You talk about closure. Your former chief strategist, Steve Schmidt, gave a pretty candid interview to "Politico" about your presidential campaign. He said, "When Lehman Brothers collapsed in the fall I knew pretty much right away that… from an electoral strategy perspective, the campaign was finished." Did you also feel that way at the time?
McCain: Oh no. What Steve was saying and what we all knew was we were three points ahead in the polls and we dropped to 7 to 10 points down after the stock market collapsed. Obviously, the economy had a huge effect. We fought to the last hour of the last day and I'm very proud of my campaign and I'm very grateful for Steve and all of our team.
Chetry: How did you find that strength? Because you were out there day after day, event after event, when all indications pointed to the fact it was quite an uphill battle.
McCain: Well, I faced an uphill battle in securing the nomination. I faced other uphill battles in my life. The great honor of my life was to receive the nomination of the Republican Party and I'm grateful for the opportunity to have served as the nominee and I'll never forget it.
Chetry: Your daughter Meghan is finding her political voice. She was on "The View" yesterday and she is an eloquent young lady. She talked about torture and gay marriage and the Republican Party being scared of change. What do you think about some of her criticism to the GOP?
McCain: I think I love and respect my daughter and I appreciate the fact that she brings fresh views and ideas and we need that in our party. And we don't always agree and sometimes we have spirited discussions and that is good in families.
Chetry: She is a future maverick in training?
McCain: [laughing] Maybe. Maybe.