May 4, 2009
[cnn-photo-caption image=http://i2.cdn.turner.com/cnn/2009/images/05/04/acosta.cuba.blog.capitol.art.jpg caption= "CNN's Jim Acosta in front of the Cuban Capitol building in Havana, Cuba."]
From CNN Producer Eric Marrapodi
It's easy to see why author Ernest Hemmingway loved Cuba. The sugar sand beaches of Varadero and glass blue sea all around the island are breathtaking. The Spanish colonial architecture in Old Havana is reminiscent of old Europe. Coral block, high arches, and giant 12 ft. wooden doors with open transoms on top are seemingly at every turn. There are plenty of 1950's-era US cars driving down the streets, brightly colored with their trademark tailfins and rounded edges. Classic Pontiacs, '57 Chevys, and old Cadillacs, line the streets. Its a bit like stepping back in time and not remembering how to get back.
The decades old U.S. embargo has cost Cuba dearly. After the fall of the Soviet Union, a main supplier of cash and resources to this tiny island nation, Cuba turned to tourism. The flight from Miami to Havana is less than hour but is still a no go for American tourists. A Canadian tourist told our team yesterday she thought the embargo was stupid and "like an old grudge you can't let go between family members."
We've seen a good bit of the island in our time here and you can clearly see the old Soviet influences. Outside of Old Havana there are a lot of concrete block buildings. Straight angle walls devoid of color and full of Soviet styling. Billboards all along the roads show pictures of Che Guevera and Fidel Castro and remind the citizens here to "Defend Socialism" and "Viva la Revolución."
May 3, 2009
[cnn-photo-caption image=http://i2.cdn.turner.com/cnn/2009/images/05/04/acosta.cuba.blog.cars.art.jpg caption="Classic American cars in Havana, Cuba."]
Sunday morning in Havana started with a short stroll from the Hotel Nacional to a classic car show just down the street.  American car companies may be on life support back in the U.S. but the golden years of the classic Detroit automobile are still alive and well in Havana.  Cubans have kept these beauties purring for decades. Chevys, Chryslers, Buicks... you name it... they're here. 
 
After that it was off to Old Havana where we found the area around the Capitol Building bustling with tourists from around the world.  (Everywhere except the U.S.)  A retired sailor with the Cuban Navy approached us to find out why we were filming in the area.  When he found out we were from the States, the first thing out of his mouth was "me gusta Obama."  Translation:  I like Obama.
 
I'm off to write my stories for Monday and Tuesday.  We will first focus on how the U.S. travel ban on Cuba may be working against American interests.  Then, on Tuesday, a personal story on finding my Cuban roots for the first time.
 
Ciao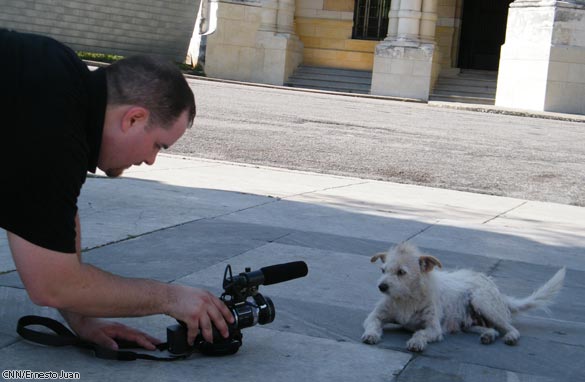 CNN Producer Eric Marrapodi photographs a stray dog in Havana, Cuba.
May 2, 2009
[cnn-photo-caption image=http://i2.cdn.turner.com/cnn/2009/images/05/04/acosta.cuba.blog.cousin.jpg caption="CNN's Jim Acosta meets his father's cousin for the first time in Cuba."]
After a great meal in Old Havana last night, I got up at the crack of dawn and ventured out to my father's home town, Santa Maria de Rosario.  It's a small village about half an hour outside of Havana.  There, I was able to see the church where my dad was baptized and even got to meet one of his cousins.  Talk about a family reunion!  We spent an hour chatting about my grandparents.  Apparently my grandfather was kind of a big deal in that town, many years ago.
This afternoon, we move on to Cuba's most famous beach, Varadero where tourism officials are holding a golf tournament.  Do the golfers yell, "four" or is it "cuatro!?!"  We'll get a good look at how the country is marketing itself these days to international travelers.  And we'll see plenty of tourists from Europe who can freely travel to Cuba, unlike most Americans.
Cuba is always anxious to get out that side of the story.
Cheers... Jim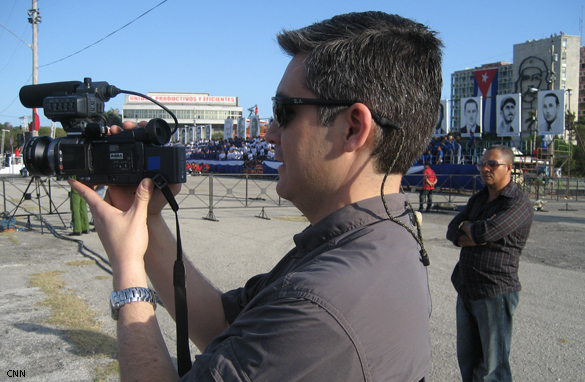 CNN's Jim Acosta with video camera in Havana, Cuba.
May 1st, 2009
[cnn-photo-caption image=http://i2.cdn.turner.com/cnn/2009/images/05/01/acosta.cuba.blog.3.art.jpg caption="Crowds celebrate May Day in Havana, Cuba Friday."]
With a Cohiba cigar in my shirt pocket, I watched the sun rise over Havana's Plaza de La Revolucion as hundreds of thousands of Cubans marched in the island's annual May Day parade today. The celebration comes as Cuba marks the 50th anniversary of Fidel Castro's rise to power. In years past, Fidel Castro would lead the parade then speak to the hordes of Cubans on-hand. Castro's younger brother and Cuba's current leader Raul Castro was on-hand but he watched the festivites below the towering statue of Jose Marti, the island's pre-Castro revolutionary icon.
A few Cubans held up pictures of President Obama, with one sign reading "less salt" or as the saying is understood here, "be sweet." Cubans like what they're hearing from the U.S. President, especially Mr. Obama's move to end essentially all travel restrictions on Cuban Americans. Some Cubans are skeptical of big changes. As one Cuban woman wearing an Elian Gonzalez t-shirt told us, "he's only one man."
Now Cubans want the man in the White House to go further and end the U.S. travel ban on Cuba. The island is heavily dependent on foreign travelers. So, the prospect of American tourists flooding into Havana has some Cubans seeing dollar signs.
Cheers... Jim
April 30, 2009
[cnn-photo-caption image= http://i2.cdn.turner.com/cnn/2009/images/05/01/acosta.cuba.blog.art.jpg caption= "CNN's Jim Acosta reports from Havana, Cuba for American Morning."]
Even on the charter plane to Cuba, you can't totally escape American pop culture. Coldplay is playing on the jumbo jet's TVs. "Viva la Vida" might be a good theme for this trip.
I'm headed to an island my father left 47 years ago, two weeks before the Cuban Missile Crisis. And guess what? Cuban Americans are going back in droves. The plane is packed. Many are taking advantage of a new Obama administration policy making it easier for Cuban Americans to visit relatives on the island.
We talked to one woman who's headed back to see her brother and sister. She thanked the president for allowing her to go to her homeland more often. She's carrying back food, medicine, and toys for her nieces and nephews.
Why toys? Her nieces and nephews, she explains don't have Christmas. And they don't have Santa Claus. But they will today.
Viva la Vida indeed!
CNN's Eric Marrapodi contributed to this blog