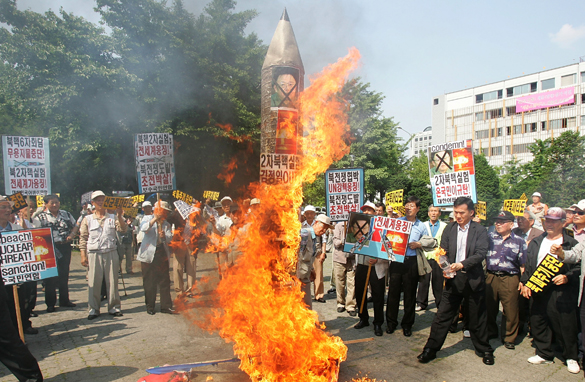 South Koreans burn a mockup of a North Korean missile during a rally on May 25, 2009 in Seoul, South Korea. Getty Images
Here are the big stories on the agenda today:
North Korea has reportedly test-fired a new round of missiles overnight.  The launches coming after Monday's apparent underground nuclear test.  The move rattled nerves around the world and provoked a stern warning from President Obama.  Our pentagon team's been up through the night working their sources, and our own Christiane Amanpour, who's been inside North Korea and seen its nuclear program firsthand will join us live with her unique insight.
Home at last.  A teenage cancer patient and his mother return to Minnesota after a week on the run from court-ordered chemotherapy treatments. This morning we're hearing from both of them and looking at what's next legally and medically.
The daughter of former undisputed Heavyweight Champ Mike Tyson is on life-support, after a freak accident at her home in Phoenix.  Authorities say four-year-old Exodus Tyson was playing around on a treadmill when she apparently got a cord wrapped around her neck.  She was found by her seven-year-old brother.  Tyson was in Las Vegas at the time.
In just a few hours the California Supreme Court is expected to rule on whether to overturn controversial Proposition 8, which banned same-sex marriages in that state.  If the justices uphold the ban, they will also have to decide whether to dissolve the marriages of 18-thousand same-sex couples who wed before the November 4th election.