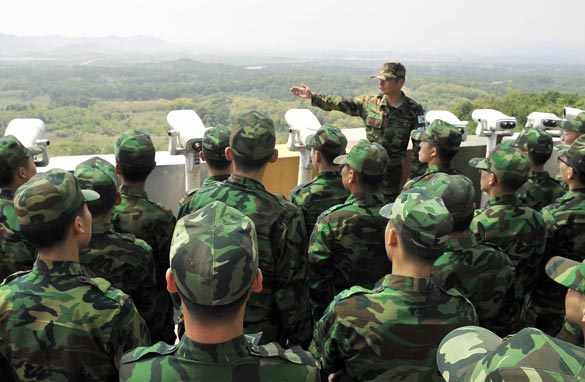 South Korean soldiers look at the North Korean side as they visit an observation post in Paju near the Demilitarised Zone (DMZ) dividing the two Koreas on May 27, 2009. Getty Images
Good morning everyone. We have breaking news this morning: A serious jolt to the caribbean. A powerful 7.1 earthquake hit off the coast of Honduras within the past two hours. A tsunami watch was issued for Honduras, Belize and Guatemala. That watch has since been cancelled. So far there have been no reports of any damage or injuries.
There are several other big stories we'll be breaking down in the next 15 minutes. Including, a big thumbs-up for the U.S. economy. President Obama declaring the country is back from the brink of economic disaster... and Americans are calmer and more confident about the future. We'll break down what the economic booster shot could mean for your money and your future.
And this morning, an exclusive report into the questions that run through our minds when we fly. How competent is the crew? Are they trained to deal with an emergency? This morning we uncover so-called "pilot mills" and how getting "a quick ticket to the cockpit" is putting your safety at risk.
We're also following developing news overseas. U.S. and South Korean militaries are on heightened alert this morning. U.S. officials telling CNN the North appears to be preparing to restart generators at a nuclear plant used to make bomb-grade plutonium. All this playing out as Secretary of State Hillary Clinton uses strong language to warn the communist regime it will face consequence