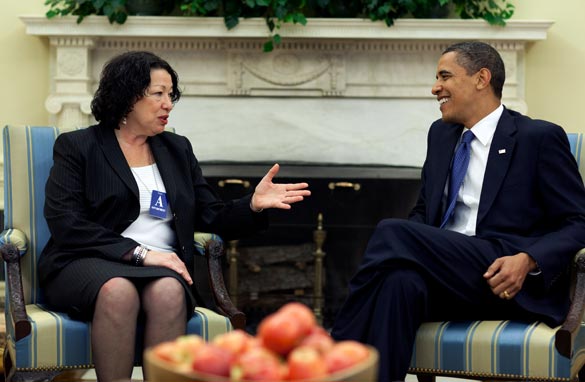 In this handout image provided by the White House, Judge Sonia Sotomayor speaks with President Obama in the Oval Office of the White House May 21, 2009 in Washington, D.C.
Happy Friday everyone.
A developing story out of North Korea – The North has reportedly test-fired another short range missile off its east coast. That's the sixth one this week. And this morning Defense Secretary Robert Gates is revealing whether more U.S. troops are headed to the region. We are live from the Pentagon with a report.
There are new questions about President Obama's Supreme Court nominee. Pro-choice and pro-life groups are demanding to know where Sonia Sotomayor stands on abortion rights. The White House says the president never asked her. We'll explore whether the future of Roe v. Wade could hang in the balance.
And General Motors – on the brink of bankruptcy. Despite getting more than 19-billion of your tax dollars. So what does it all mean for you, Detroit, and the nation? We'll get some insights from somebody who knows.