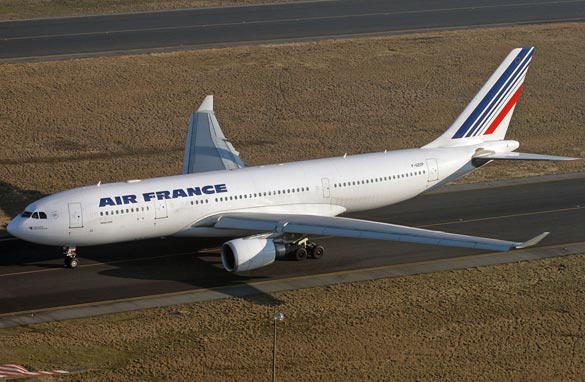 A photo of the Airbus 330 that went missing over the Atlantic early Monday. Courtesy Olivier Corneloup
Here are the big stories on the agenda today:
An urgent search underway for a Paris-bound Air France jet that vanished while flying into thunderstorms over the Atlantic Ocean.  Right now there are new clues into where the flight with 228 people on board may have gone down.
A murder suspect's chilling past.  New details about the man charged with gunning down a Kansas abortion doctor.  He may have had an "eye-for-eye" anger toward those doctors performing abortions.  We're live in Wichita with the developing story.
A possible test case for the president's Supreme Court nominee.  Will the current justices reject Judge Sonia Sotomayor's ruling in a case alleging reverse discrimination?
It's the morning after for General Motors.  The bankrupt automaker is now beginning the painful process of cutting one-third of its hourly workforce and 40-percent of its dealerships.  The company's Chief Financial Officer joins us live.
President Obama is leaving for the Middle East tonight.  He's hoping his visit will begin to "change the conversation" between the U.S. and the Muslim world.  The president will be trying to win over the hearts and minds of millions who are still very suspicious of America's motives.  We're talking to former Secretary of State Madeleine Albright about how his upcoming Cairo speech can get things off to a good start.