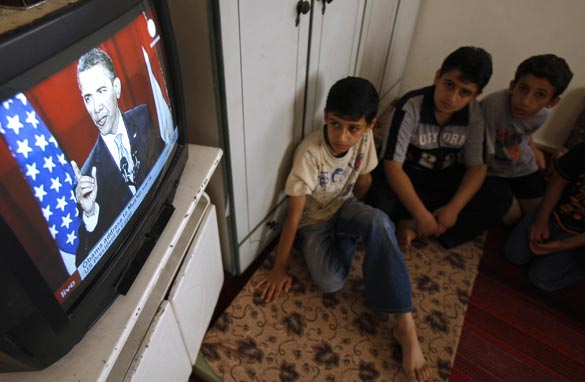 Palestinian boys listen to President Barack Obama as he delivers a speech at Cairo University, at their home in the southern Gaza Strip town of Rafah on June 4, 2009. Getty Images
By Ed Hornick
(CNN) - President Obama spoke Thursday of the tensions between the United States and Muslims, saying "the sweeping change brought by modernity and globalization led many Muslims to view the West as hostile to the traditions of Islam."
"Violent extremists have exploited these tensions in a small but potent minority of Muslims. The attacks of September 11, 2001, and the continued efforts of these extremists to engage in violence against civilians has led some in my country to view Islam as inevitably hostile," said Obama, delivering what the White House billed as a major speech to the Muslim world in Cairo, Egypt.
The president reiterated a point he made in an April speech in Turkey: "In Ankara, I made clear that America is not - and never will be - at war with Islam. We will, however, relentlessly confront violent extremists who pose a grave threat to our security.
"Because we reject the same thing that people of all faiths reject: the killing of innocent men, women and children."
Obama also said the U.S. does not want to keep its troops in Afghanistan. "Make no mistake: We do not want to keep our troops in Afghanistan. We seek no military bases there. It is agonizing for America to lose our young men and women. It is costly and politically difficult to continue this conflict.
"We would gladly bring every single one of our troops home if we could be confident that there were not violent extremists in Afghanistan and now Pakistan."
Obama hopes to start "a new chapter of engagement" between the United States and the Muslim world, speechwriter Ben Rhodes said Wednesday before the president's address.
This engagement would be based on mutual respect and interest, and Obama plans to speak "openly and candidly" about issues that have caused "tensions in the Muslim world," Rhodes said. "This can't be just [about] what we're against but what we're for."
Obama asked staff members to "cast a wide net" to gather a range of viewpoints, including those of Muslim-Americans, as he was preparing his Cairo comments, Rhodes said.
But just as the White House was laying out its vision, al Qaeda leader Osama bin Laden purportedly issued another statement Wednesday, saying U.S. policy in Pakistan has generated "new seeds of hatred and revenge against America."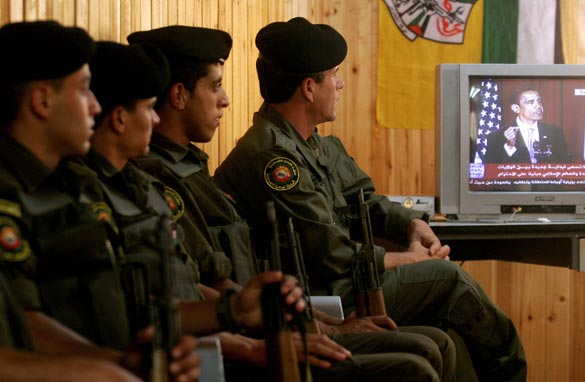 Palestinian security forces listen to US President Barack Obama as he delivers a speech at Cairo University, at their headquarters in the West Bank city of Jenin on June 4, 2009. Getty Images
Arabic-language TV network Al-Jazeera aired segments of what it said was a "voice recording by bin Laden," which was believed to have been recorded weeks ago during an exodus of civilians because of fighting in northwestern Pakistan. Pakistani troops have been taking on militants in the Swat Valley.
The message also likened Obama's actions to those of past administrations.
Obama is proving that he is "walking the same road of his predecessors to build enmity against Muslims and increasing the number of fighters and establishing more lasting wars," the tape said.
"This basically means that Obama and his administration put new seeds of hatred and revenge against America. The number of these seeds is the same as the number of those victims and refugees in Swat and the tribal area in northern and southern Waziristan."
In his Thursday speech, Obama also touched on U.S. relations with Iran and the Israeli-Palestinian battle.
Addressing the nuclear tensions between United States and Iran, he said: "That is why I strongly reaffirmed America's commitment to seek a world in which no nations hold nuclear weapons. And any nation - including Iran - should have the right to access peaceful nuclear power if it complies with its responsibilities under the nuclear Non-Proliferation Treaty."
On a two-state solution to the Israeli-Palestinian conflict, Obama said, "If we see this conflict only from one side or the other, then we will be blind to the truth. The only resolution is for the aspirations of both sides to be met through two states, where Israelis and Palestinians each live in peace and security."