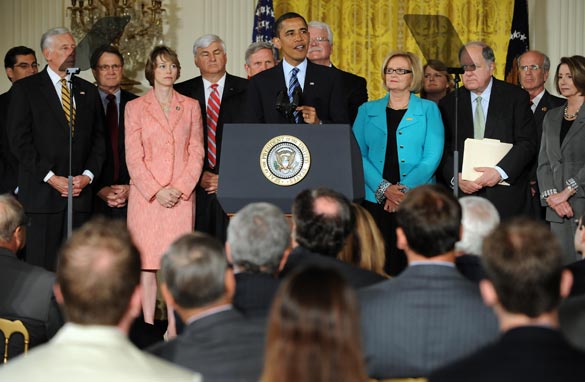 President Obama proposed Tuesday that the government adopt 'pay-as-you-go' rules for federal spending. Getty Images
Hey everyone, here's today's top stories we'll be covering on the show:
There is breaking news this morning of engine trouble forcing an Airbus to make an emergency landing. Spain's airport authority tells CNN the jet experienced engine trouble shortly after taking off from the Canary Islands and was forced to turn around. The flight was heading for Oslo, Norway and was in the air for a total of ten minutes. A spokesperson says there were no injuries on board and denied reports that the engine caught fire.
An FAA whistleblower – saying he was ignored – when he warned the agency about safety problems in a plane that fell from the sky a few months ago outside Buffalo. It's an interview you won't see anywhere else this morning.
If you buy it, you have to pay for it. That's the spending plan the president is pushing Congress to pass. It's called PAYGO – pay as you go – but Jim Acosta tells us the simple concept is already getting complicated.
And a CNN exclusive: Scott Roeder – the man charged with murdering a Kansas abortion provider – talking with our Ted Rowlands. The jail cell interview you won't see anywhere else.