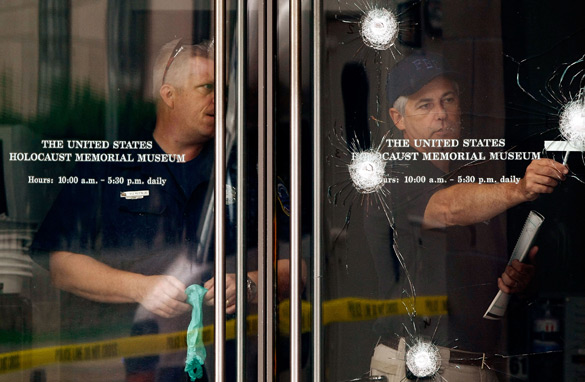 Investigators from the Federal Bureau of Investigation examine a bullet ridden door at the entrance to the Holocaust Memorial Museum June 11, 2009 in Washington, DC. Getty Images
Here are the big stories on the agenda today:
Big tobacco – on the ropes.  Congress has granted the FDA the power to change the way cigarettes are made and sold in America.  We're paging Dr. Gupta – to find out what this new law means for our health and our healthcare costs. We're also talking to the man who first asked the question: Is nicotine a drug? He's Former FDA Commissioner, Dr. David Kessler.
The enemy within.  After the man accused of the Holocaust Museum killing is officially charged with murder, we take a look at hate groups, hundreds of them, springing up all over America.
A CNN exclusive: Is al Qaeda shifting away from Afghanistan and Pakistan, for a new power base in Africa?  Barbara Starr reports U.S. officials are keeping a very close eye on Somalia, for more than pirates.
Mercy for Madonna.  The pop superstar wins her adoption appeal in Malawi for a three-year-old orphan girl – named mercy.  A lower court had ruled she could not adopt again in April, but now the high court has ruled in her favor.  We'll go live to Kenya for the latest.