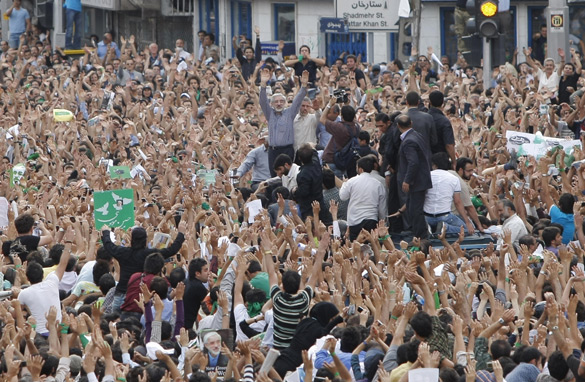 Defeated reformist presidential candidate Mir Hossein Mousavi (C) raises his arms as he appears at an opposition demonstrate in Tehran on June 15, 2009, for the first time since an election that has divided the nation. Getty Images
TEHRAN, Iran (CNN) - Iran's defeated main opposition leader appeared at a rally Monday, the first time he has been seen in public since last week's elections which he says were rigged to give hardline President Mahmoud Ahmadinejad overwhelming victory.
Iranian opposition supporters protest in Tehran on Monday.
Reformist Mir Hossein Moussavi, whose claims of fraud in Friday's vote have fueled three days of unrest and prompted authorities to launch a probe, spoke to supporters in Tehran's Freedom Square using a loudspeaker, and clasped his hands over his head as the crowd cheered.
Wearing a striped shirt and smiling, he appeared confident, despite official election results showing that President Mahmoud Ahmadinejad convincingly won Friday's election.
Hundreds of thousands of people turned out for the demonstration, said Amir Mehdi Kazemi, a reporter for the Iranian government-backed station.
CNN Chief International Correspondent Christiane Amanpour saw a pair of four-wheel drive vehicles - believed to be transporting Moussavi to the rally –pass at high speed to join the march, one with security officials hanging off the car and the other with a camera.
Crowds shouted "Moussavi! Moussavi!" as they passed.
There was little or no chanting of political slogans among the marchers, with demonstrators quieting anyone who tried to shout, Amanpour said, because the Interior Ministry has banned political demonstrations.

Keep reading this story »
Watch: Moussavi emerges at rally
Related: Would Moussavi make a difference?