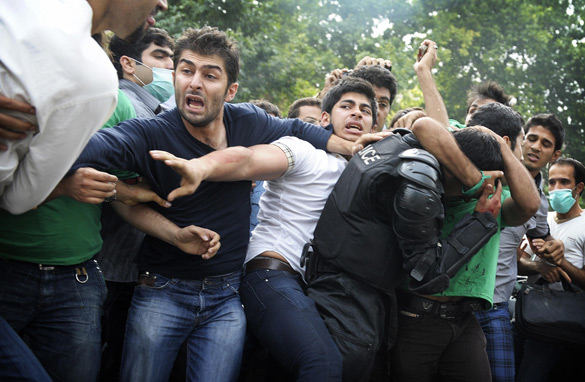 Supporters of defeated Iranian presidential candidate Mir Hossein Mousavi help evacuate an injured riot police officer after he was beaten by demonstrators during a protest in Valiasr Street in Tehran on June 13, 2009. Getty Images
Here are the big stories on the agenda today:
Breaking news now.  Protesters are gathering in the streets for a third day in Tehran, Iran, facing off against secret police with batons and baseball bats.  They say the reelection of president Mahmoud Ahmadinejad was rigged.  Iran's supreme leader has now said any legal challenges will be investigated.  We're live on the streets as people gather for what is being deemed an illegal protest this morning.
Your safety in the skies  Federal regulators holding a rare airline industry summit today to address some major concerns about the safety of passengers flying the nation's regional airlines.
CNN's Allan Chernoff was the man who exposed some scary things at the country's smaller carriers.  He's covering the hearing for us today.
Here a czar. There a czar. The Obama Administration is handing out the title left and right. Well, maybe not so much right… Carol Costello is with us now to tell us what's behind the powerful title.  And how many are we up to now?