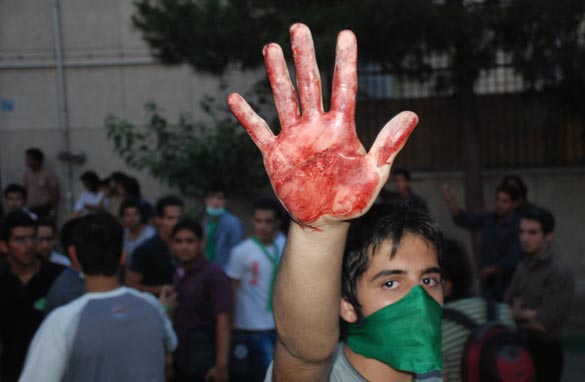 A protestor holds up a hand with blood during an opposition rally where Iranian supporters of defeated reformist presidential candidate Mir Hossein Mousavi demonstrated in the streets on June 15, 2009 in Tehran, Iran. Getty Images
Here are the big stories on the agenda today:
"We fight, we die." Breaking news out of Iran. The government's Council of Guardians is now agreeing to recount some of the ballots from last week's disputed presidential election. Seven people are now dead in a bloody protest for democracy. Iran state radio says they were killed when they tried to storm a military building yesterday in western Tehran. More rallies on both sides of the vote are planned this morning. CNN's Christiane Amanpour is live in Tehran – amid the continuing protests.
G.M. of the sky? Staggering losses being posted this year by the U.S. airline industry. The numbers, in the billions, are even worse than expected. Carol Costello has more on whether the government might have to step in and take over, like it did with General Motors.
And, "Late Show" host David Letterman is saying sorry to Governor Sarah Palin, for a joke about her teen daughter being "knocked up." Some are saying it's still not enough. We have Governor Palin's response.