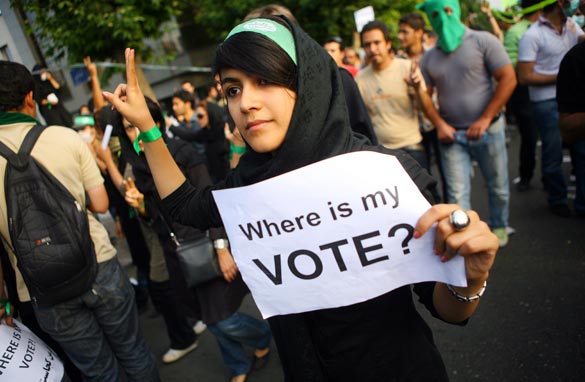 A supporter of defeated Iranian presidential candidate Mir Hossein Mousavi protests June 16, 2009 in Tehran, Iran. Getty Images
TEHRAN, Iran (CNN) - Iran's opposition Wednesday pledged to continue protests over disputed presidential elections as authorities tightened controls on media, threatening Web sites reporting on the country's worst crisis for decades.
Opposition leader Mir Hossein Moussavi, who claims last week's re-election of President Mahmoud Ahmadinejad was rigged, called on his supporters to join him on the streets of Tehran Thursday in the latest in a series of demonstrations.
Meanwhile, the country's powerful Revolutionary Guard - which enforces strict Islamic codes - said it will prosecute Web sites it accuses of inciting riots, adding to a ban on foreign media reporting on the protests and a block on Internet site such as Facebook or Twitter.
Even as the Guard made its announcement, thousands of Iranians planned to head to Haft-e-Tir Square in central Tehran on Wednesday evening despite a stepped-up government crackdown that has seen people arrested across the country. Video Watch Christiane Amanpour on media restrictions »
The scale of the protests, the worst seen in the country since a 1979 revolution overthrew its monarchy, Tuesday prompted Supreme Leader Ayatollah Ali Khamenei, who has already endorsed Ahmadinejad's win, to appeal for calm, urging citizens to support the Islamic state.
His appeal came a day after at least seven people were killed during a pro-Moussavi demonstration in Tehran.