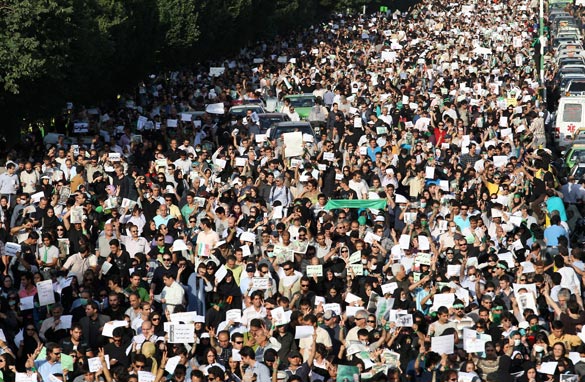 A picture released by the Fars News Agency shows supporters of defeated Iranian presidential candidate Mir Hossein Mousavi taking part in a rally in Tehran on June 17, 2009. Getty Images
Here are just some of the stories we'll be covering this morning:
Could this be a moment of truth in Iran? We are about 90 minutes away from what are expected to be massive protests across the nation.
And within the past hour...The government rolling out its toughest crackdown on foreign media, forbidding CNN from not only covering today's demonstrations but limiting our reporter there to just one report.
And this morning - because of the crackdown - there's no way to overstate the importance of the internet in the protest movement. More and more information is being gathered by ordinary citizens and distributed on social networking sites - and we're keeping an eye on all of it.
And Hillary Clinton sidelined. Not by tough diplomacy... but a nasty fall outside the White House. We'll tell you what sent her to the hospital last night.