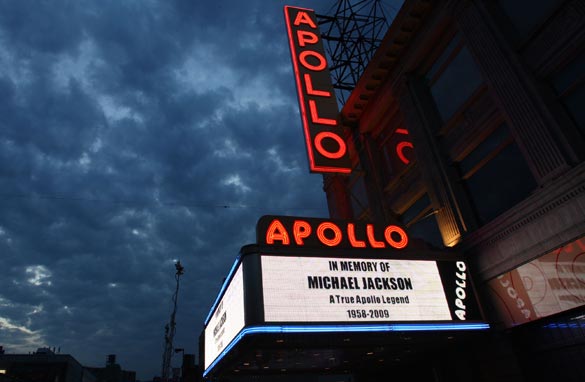 A general view of the exterior of The Apollo Theater during a public memorial for Michael Jackson on June 30, 2009 in New York City. Getty Images
Here's what's on the agenda this morning...
A nurse who claims she treated Michael Jackson is telling her shocking story. Cherilyn Lee says back in April Jackson begged for a powerful intravenous sedative used in operating rooms so he could sleep. That nurse spoke exclusively to CNN overnight. You'll want to hear her story.
Details are also trickling out about Michael Jackson's will, which could be made public today. We're also learning there will be a public viewing and private memorial service at Neverland Ranch later this week. Londell McMillan, the Jackson family attorney, will be joining us live.
California's state senate shut down overnight! Lawmakers couldn't find the 24-billion dollars needed to fix the state's budget. Several state governments facing budget deadlines could be on the verge of doing the same. Could your state be next? Pennsylvania's Gov. Ed Rendell joins us live to talk about his state's possible shutdowns.
President Obama is taking the fight over health care reform out of Washington and on to your laptop. The president will be taking your questions about his plan from Facebook, Twitter, and YouTube. Meanwhile, lawmakers on Capitol Hill are still wrangling over details of the plan.