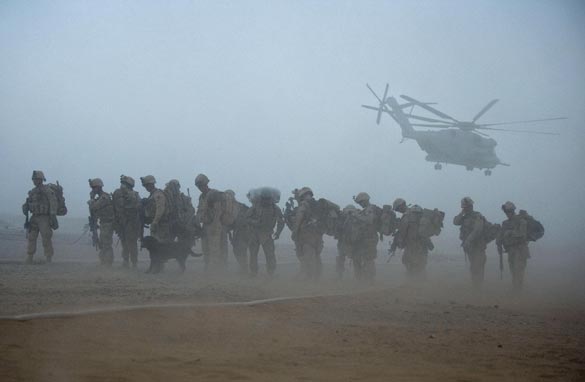 US Marines wait for helicopter transport as part of Operation Khanjar at Camp Dwyer in Helmand Province in Afghanistan on July 2, 2009. Getty Images
Here are the big stories on the agenda today:
New details on the Michael Jackson investigation.  The DEA is now on the case.  And now we know the "king of pop" may go out in front of a sold out arena after all.  Plus, Michael Jackson's will surfaces.  It answers some questions... but raises a lot more, and pulls Diana Ross into the middle of the media circus.
One of the first major military operations of the Obama Administration is underway right now in Afghanistan.  U.S. troops have launched a major operation against Taliban fighters in the Helmand River valley.  It's in the southwest corner of the country, a region that produces more opium than anywhere in the world.  It's the first large scale test of the U.S. military's new counter-insurgency strategy.  Some 4-thousand Marines are involved.  There's also word that the Taliban is holding a missing U.S. soldier.  We'll go live to the Pentagon for all the latest.
"The FAA is a Very Sick Agency."  It's a report you're only going to see on CNN.  We've uncovered evidence that the Federal Aviation Administration, an agency that's supposed to keep you safe in while you fly, has ignored more than two-dozen problems flagged by whistleblowers.  Some of them are even facing retaliation.