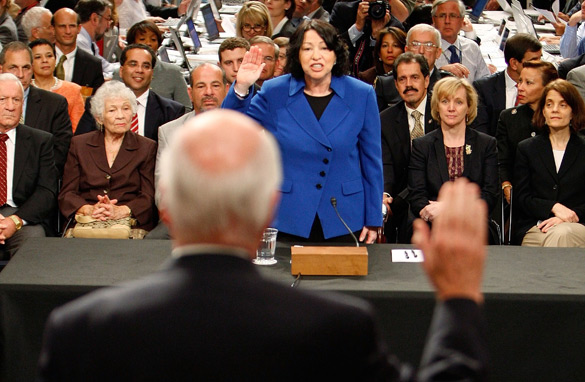 Supreme Court nominee Judge Sonia Sotomayor is sworn in during her confirmation hearing before the Senate Judiciary Committee July 13, 2009 in Washington, DC. (Getty Images)
WASHINGTON (CNN) - U.S. Supreme Court nominee Sonia Sotomayor said Monday that her hotly disputed judicial philosophy is, in fact, quite simple: Remain faithful to the law.
"In the past month, many senators have asked me about my judicial philosophy," Sotomayor told members of the Senate Judiciary Committee during her opening statement at her confirmation hearings.
"It is simple: fidelity to the law. The task of a judge is not to make law, it is to apply the law. And it is clear, I believe, that my record ... reflects my rigorous commitment to interpreting the Constitution according to its terms, interpreting statutes according to their terms and Congress's intent and hewing faithfully to precedents established by the Supreme Court and by my Circuit Court. In each case I have heard, I have applied the law to the facts at hand."
Sotomayor said the "process of judging is enhanced when the arguments and concerns of the parties to the litigation are understood and acknowledged."
Do you support Judge Sonia Sotomayor's confirmation to the U.S. Supreme Court? Tell us your thoughts.