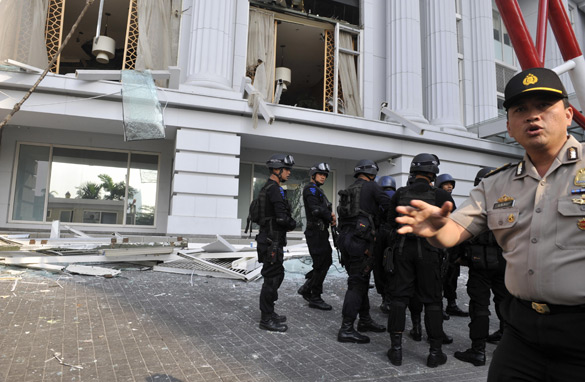 Indonesian counter-terrorist police commandos secure the damaged Ritz-Carlton hotel in Jakarta on July 17, 2009 after an explosion hit the Ritz-Carlton and nearby JW Marriot hotel. (Getty Images)
JAKARTA, Indonesia (CNN) - Bomb blasts tore through two luxury hotels Friday morning in Jakarta, Indonesia, killing at least nine people in what the country's president called a "terrorist" attack.
Officials said more than 50 people were injured in the explosions at the Ritz-Carlton and JW Marriott hotels, which punched out the windows of a usually crowded restaurant and sent plumes of smoke into the sky.
President Susilo Bambang Yudhoyono said the bombings as the work of extremists.
"I condemn this terrorist attack," Yudhoyono said. "I know they will never stop."
One hospital reported that there were 16 foreigners wounded in the blast, according to state-run Antara News Agency. The victims were from the United States, Italy, South Korea, Japan, Norway, Netherlands, India, Australia and Britain.
Indonesia has been hit by several deadly bomb attacks targeting foreigners in recent years. More than 200 people were killed on the resort island of Bali in 2002 while 12 people were killed in a blast at the same Marriott hotel in Jakarta in 2003.
Those attacks were blamed on the Jemaah Islamiyah terror group, said to have links to al-Qaeda.