[cnn-photo-caption image=http://i2.cdn.turner.com/cnn/2009/images/07/30/am.intv.cattie.art.jpg caption="Cattie says he hopes his findings makes the system a little bit safer."]
New Yorkers will tell you they've seen strange things underground on the subway. This past weekend a subway rider saw a child 8 or 9 years old in the train operator's cab and said it appeared she was teaching the boy how to run the train. He snapped a picture with his cell phone before getting on train.
The subway rider, Jules Cattie, spoke with CNN's Carol Costello Thursday.
Carol Costello: The story is so unbelievable.
Jules Cattie: Even in New York, it's shocking.
Costello: You said you snapped the picture because you didn't think anybody would believe you.
Cattie: In New York people say crazy things all the time and you tell friends and people say 'no, that couldn't happen.' Well, this actually happened.
Costello: You're sitting on the train. When does this first come to your attention that a child might be in the driver's seat of this subway train?
Cattie: Well I left work, was going home to watch a U.S. soccer game and I heard someone kind of yelling instructions. But it didn't sound like a co-worker to co-worker, like training an MTA employee, it sounded like a mother and a child. The tone was like that.
Costello: So what was she saying to the boy?
Cattie: The words, I heard: 'green, go, yellow, slow down' and things like that which I thought that was kind of - the MTA has to have better instructed people if they don't know that green means go.
Costello: And at this time, the train was actually moving?
Cattie: Yes. Yes.
Costello: So was he doing a pretty good job?
Cattie: It's a rail so I don't know. It was going and then we eventually - the train stopped at UNION SQUARE and the train was delayed a little bit and all of a sudden the young boy came out, popped the door open and announced why the train was delayed.
Costello: The little boy popped out and said why the train was delayed, the same kid that was driving the train?
Cattie: At this point, I didn't know that. He popped out and made the announcement. Everybody on the train kind of nervously looked around and giggled like 'did that really just happen?' And it's kind of shocking and he went back in. At that point I went up to the cab to kind of investigate and see what was going on.
Costello: You went up to the cab to investigate and what did they tell you?
Cattie: I didn't say anything. I looked. The window was kind of fogged out, grayed out. So I leaned up. At that point, I saw the kid. I saw the small individual and larger individual standing at the controls, which kind of shocked me. So I got out my camera because I didn't think it was safe. I didn't know if it was against the rules I didn't know if it was illegal, but I thought it was kind of shocking. So I put the camera, you know, pressed it up against the window. You can see the pictures in my reflection, held it up. And at that point, somebody in there said, he has a camera and I snapped it.
Costello: All of this was happening; we've had some pretty terrible train crashes lately. In Washington, D.C., being the most recent tragic example, so many people lost their lives. Was that going through your mind as you saw the kid at the controls?
Cattie: That's why I brought it to the press' attention. I talked to the MTA and inspector general's office after it happened. I provided the photo and told them what happened. We're incumbent, we're American citizens, to keep an eye out for each other. Don't assume because you're on public transport everything is being run properly. If you see something, say something, take a picture and make somebody aware of it and hopefully something gets done.
Costello: We have an MTA statement. 'Under New York City transit rules. the presence of an unauthorized person in the cab of a subway train is expressly forbidden and viewed as a serious infraction. Depending on the outcome of [the] investigation, disciplinary charges may be filed against these employees.' So you have evidence in the picture. Most assuredly something will happen. An investigation is under way and that's got to make you feel a little better.
Cattie: I didn't want this young man to get in any trouble. I don't want the conductor or the driver to lose their jobs over this. I just think it's a, like President Obama said, these are teachable moments and that hopefully something good comes out of it. You know, I didn't want something to happen in a couple of weeks, a train being in an accident and people get injured or killed, and to think, God, I didn't do anything and hopefully this makes the system a little bit safer.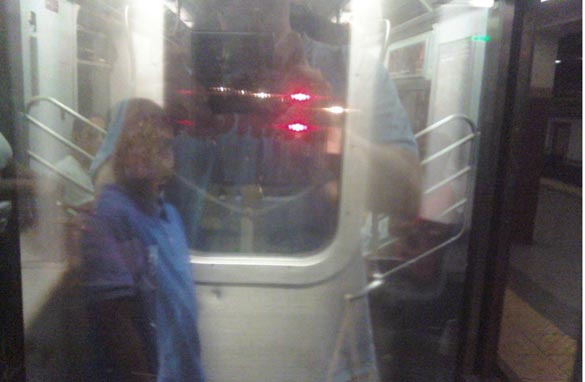 Photo snapped of child in the driver's cab. Courtesy: Jules Cattie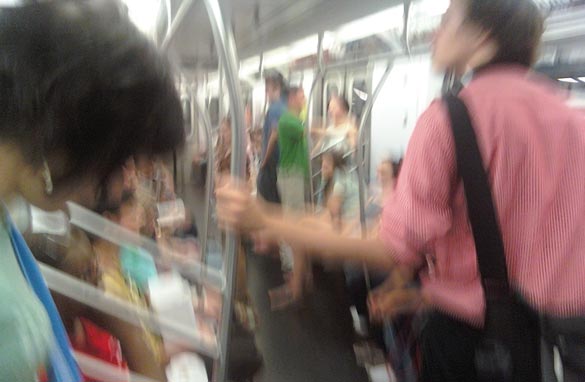 Cattie snapped the riders in the subway car he was in. Courtesy: Jules Cattie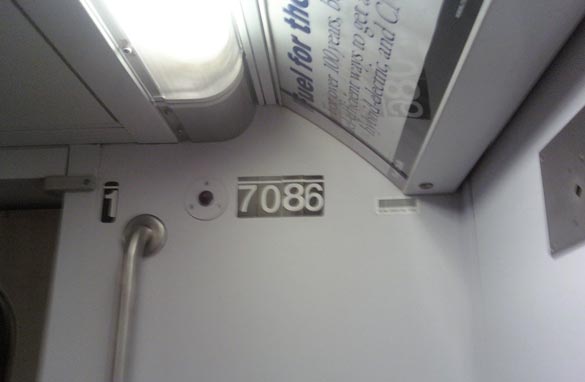 The train number. Courtesy: Jules Cattie