Let's step back and assess your stock market investments...
Anything tied to the major stock market averages are clawing BACK from the Crash of '08. Stocks have now finished the best five months since 1938.
Let's look at the S&P 500 – it represents the stocks of 500 different companies and is the benchmark – it is up 11 percent this year.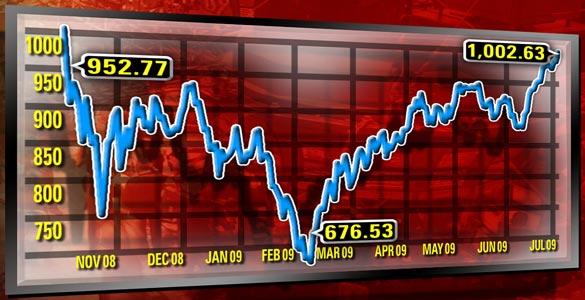 Back to levels not seen since last November...you can see on this chart, a collapse all the way to 12 year lows in March...and then a sharp rebound...the S&P 500 as of yesterday's close, is up 48 percent from that March low.
So what does that mean for you? It means if you are still invested in the market, the stock portion of your portfolio is recovering. Why? Because the stock market is anticipating the economy will turn around.
The economy is still very weak but auto sales, housing, manufacturing, construction and earnings show signs of stabilizing. As one economist put it...the freefall of the skydive is over, the chute has been pulled and the economy is STILL falling, but now floating down.
Skeptics see caution ahead: The jobless rate is expected to rise to 10 percent, perhaps higher. Foreclosures continue. American consumers are spending less and paying down their debt – good for their personal finances, but it's behavior that could slow a recovery.
And there are serious concerns about how weak the recovery could be when it comes. Will it be a jobless recovery, with slow jobs growth and weak wage growth?
No doubt this spring/summer rally has been powerful, but you haven't made all your money back. The S&P 500 price is still down 19% versus a year ago. It's got a long way to go.