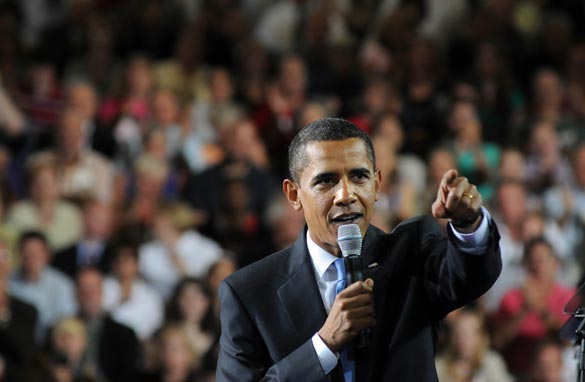 President Barack Obama speaks at a town hall meeting August 11, 2009 in Portsmouth, New Hampshire. (Photo by Darren McCollester/Getty Images)
Outside the president's health care town hall in New Hampshire, a little girl held up a poster that said: "Obama lies, Grandma dies." When I asked the child's mother (who didn't want to give her name) what the sign meant, she struggled to find an answer.
But the sign was a reference to the false claim from some reform opponents – that Democratic proposals would set up a bureaucratic "death panel" that would determine when patients die. The president batted down the claim at his town hall – a more telling sign of just how tough the health care sell has become.
Are the health care town halls helping? How is the president handling the debate? What do you think?