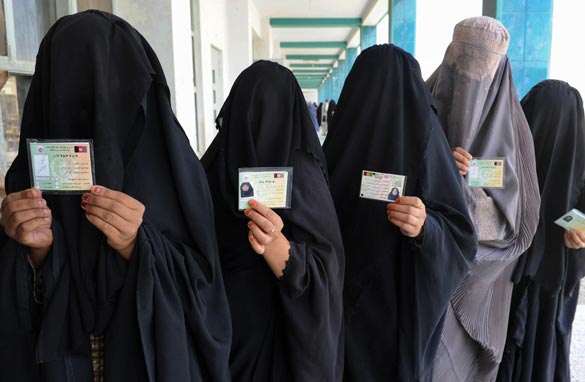 Burqa-clad Afghan women show identification cards as they wait to cast their votes at a school converted to a polling center in Kandahar on August 20, 2009. (Photo: BANARAS KHAN/AFP/Getty Images)
Here are the big stories on the agenda today:
Report: CIA hired contracted killers.  Instead of Navy Seals or the Army's Special Ops tracking down al Qaeda, The New York Times reports that in 2004 the job of killing terrorists was outsourced.  The price tag, said to be in the millions.  And the plan was apparently a total bust.
Right now the people of Afghanistan are picking a president.  The polls close at 7:30 am ET.  But it looks like Taliban threats are keeping many away.  What will this election mean for America's mission in the war-torn nation?
And halfway through a two-day summit with North Korean diplomats., New Mexico Governor Bill Richardson joins us live.  Find out why Pyongyang says they're owed a seat at the table with the Obama administration.
You go, girl.  The new list of the most influential women in the world is out.  One European leader tops the list for the fourth year in a row.  And get this, Oprah isn't even in the top 40!  Our Christine Romans will tell you who else did and didn't make the cut.