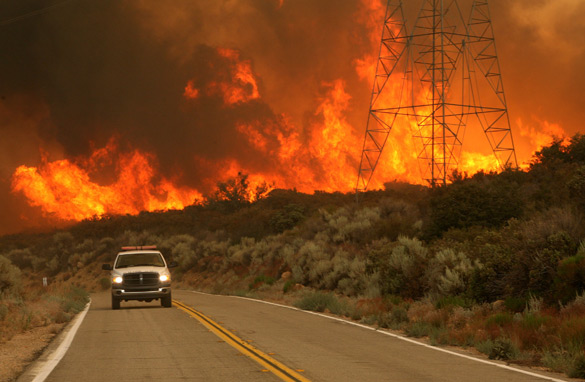 A firefighter drives away from a wall of flames August 30, 2009 in Acton, California. (Getty Images)
Here are the big stories on the agenda today:
Firefighters have lost two of their own, fighting out-of-control flames north of Los Angeles.  The wildfire has already swallowed an area the size of our nation's capital, about 66 square miles.  Right now, thousands of homes are at risk.  We are live on the front lines of the fire fight and talking to the man in charge of stopping its advance.
New developments in the case of the kidnapped girl, found and returned to her mother after 19 years.  You won't believe what Jaycee Dugarg's first words to mom were.  The stunning reunion taking place as authorities bring shovels and chainsaws to search a convicted sex offenders backyard.  Our Ed Lavandera will be live there with the latest.
Almost every high school student stresses out over taking the S.A.T's.  So why are more and more colleges making the test optional?  Today, in our American Morning series, Educating America – Carol Costello takes a look at whether it's really worth all those extra classes, and all those extra thousands.