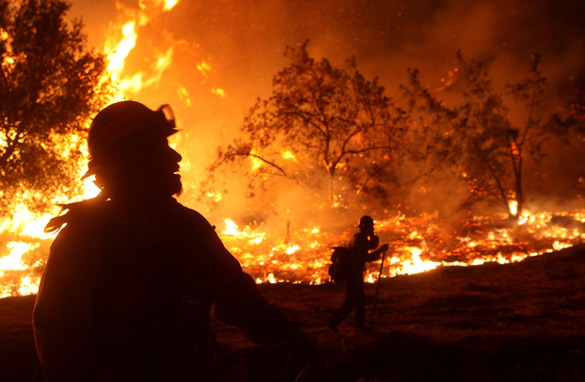 U.S. Forest Service firefighters monitor a back fire August 31, 2009 in La Crescenta, California. (Getty Images)
Here are the big stories on the agenda today:
Jaycee Lee Dugard is in a secret location with her family this morning.  Psychologists are now helping her and her children begin the process of adjusting to a new life after 18 years in captivity.  Police are opening up their investigation into the man who allegedly stole her childhood – Phillip Garrido.  A bone fragment's been found near the convicted sex offender's house.  Are there even more victims?  Authorities are now looking into a possible connection between Garrido and at least two other kidnapping cases.  We'll talk to a woman who hasn't seen her child since 1988, who thinks Garrido may have some 20-year-old answers.
An out-of-control wildfire closing in on L.A.  Triple-digit temperatures and bone-dry conditions are only feeding the flames that have now burned an area the size of San Antonio, Texas.  Authorities say five people who ignored evacuation orders are now trapped.  We're live from the front lines in southern California.
Did the Bush Administration use the politics of fear?  We'll ask America's first Homeland Security Secretary Tom Ridge about questions he asks in his new book, out today, including a push to raise the nation's terror alert before the 2004 election.
For the first time since his arrest and conviction for assaulting pop star Rihanna, Chris Brown is breaking his silence.  The R&B star told Larry King he's ashamed of what he did to her.  We'll have a sneak peak of the exclusive interview.