Editor's Note: PolitiFact.com is a project of the St. Petersburg Times that aims to help you find the truth in politics. Every day, reporters and researchers from the Times examine statements by members of Congress, the president, etc. They research their statements and then rate the accuracy on their Truth-O-Meter.
Barack Obama got many campaign contributions from Goldman Sachs
[cnn-photo-caption image=http://i2.cdn.turner.com/cnn/2009/images/09/28/moore.michael.gi.art.jpg caption="Filmmaker Michael Moore speaks at a rally and march to Wall Street on September 22, 2009 in New York City."]
Liberal filmmaker Michael Moore has a new film coming out - Capitalism: A Love Story - and he appeared on Comedy Central's The Colbert Report to promote it.
The show's ironically conservative host, Stephen Colbert, defended capitalism and the bailouts of late 2008, which led to a mock debate between them.
At first, Wall Street was actually angry about the bailouts, Colbert claimed. "because it might come with strings attached," he explained. "But they forgave Obama when he didn't add any. Now all is forgiven."
"That's why you like Obama so much now?" Moore asked.
"I don't like Obama so much," Colbert said. "On this, I do. And your film is helping me like Obama, because you're a critic of his. You think he's in the pocket of guys like Goldman Sachs."
"I point out in the film that Goldman Sachs is his No. 1 private contributor," Moore answered. "But I voted for the guy. I'm still hopeful that he's going to do the right thing and side with us, and not Wall Street. But the jury's out on that."
We'll let you draw your own conclusions on their debate. We wanted to check Moore's statement about Obama's contributors and the financial services firm Goldman Sachs.
The Truth-O-Meter says: TRUE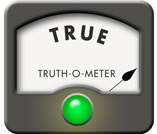 Read more: Goldman employees gave close to $1m
No. 177: Close the Guantanamo Bay Detention Center
[cnn-photo-caption image=http://i2.cdn.turner.com/cnn/2009/images/09/28/gitmo.gi.art.jpg caption="An image reviewed by the U.S. military shows the outside of the Camp Five detention facility December 10, 2008 on U.S. Naval Station Guantanamo Bay, Cuba."]
The Promise:
"As president, Barack Obama will close the detention facility at Guantanamo."
Update September 25th, 2009: More difficulties, this time from inside White House
By Catharine Richert
Promise No. 177 has hit another snag.
On the campaign trail, President Barack Obama promised to close the detention center at Guantanamo Bay. Two days after he took office, he vowed to close it within a year - by Jan. 22, 2010.
But his effort has been slowed by the difficulty in finding a place to house the approximately 240 prisoners held there and resistance from Congress. In May, the Senate refused to fund Obama's efforts to close the center until he provided more detail on what, exactly, he intended to do with the detainees housed there. Now, Gregory Craig, the White House insider who was put in charge of the effort, is being removed from the project, according to a Sept. 25, 2009, Washington Post article.
The Obameter says: STALLED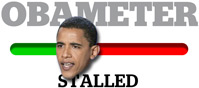 No. 195: Seek verifiable reductions in nuclear stockpiles
[cnn-photo-caption image= http://i2.cdn.turner.com/cnn/2009/images/09/28/russian.missile.gi.art.jpg caption="A Russian Topol-M intercontinental ballistic missile drives through Red Square during the nation's Victory Day parade in Moscow on May 9, 2009 in commemoration of the end of WWII."]
The Promise:
"Barack Obama and Joe Biden will seek deep, verifiable reductions in all U.S. and Russian nuclear weapons — whether deployed or non-deployed, whether strategic or non-strategic — and work with other nuclear powers to reduce global stockpiles dramatically by the end of an Obama presidency."
Update September 25th, 2009: Obama moving toward reducing nuclear arsenal
By Robert Farley
With START (Strategic Arms Reduction Treaty) scheduled to expire in December 2009, the U.S. and Russia have begun to lay the groundwork for a follow-up treaty to further reduce nuclear weapons stockpiles. On April 1, President Obama and Russian President Medvedev met in London and agreed to pursue a new agreement before the end of the year to reduce strategic offensive arms.
The Obameter says: IN THE WORKS