(CNN) - The flag-draped cases of at least 18 Americans killed in Afghanistan arrived at Dover Air Force Base in Delaware early Thursday, government and military officials said.
President Obama, who arrived at Dover Air Force Base on Marine One, along with U.S. Attorney General Eric Holder and acting DEA Administrator Michele Leonhart, witnessed the transfer of the bodies, according to the Justice Department.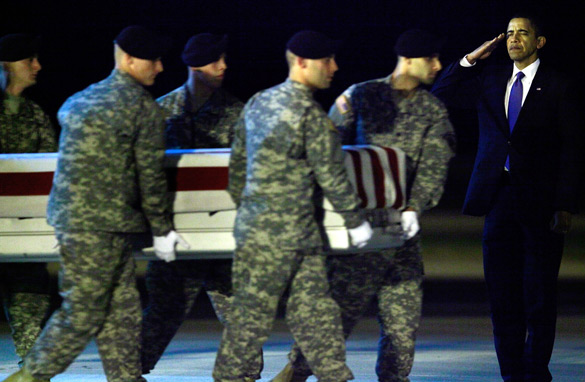 President Barack Obama salutes as a US Army carry team moves the transfer case of US Army Sgt. Dale R. Griffin, during a dignified transfer at Dover Air Force Base on October 29, 2009 in Dover, Delaware. (Getty Images)
The bodies included three Drug Enforcement Administration special agents and 15 U.S. troops who died in Afghanistan on Monday.
The DEA agents were returning from a raid on a compound believed to be harboring insurgents tied to drug trafficking when their chopper with seven troops aboard went down in western Afghanistan. Read more