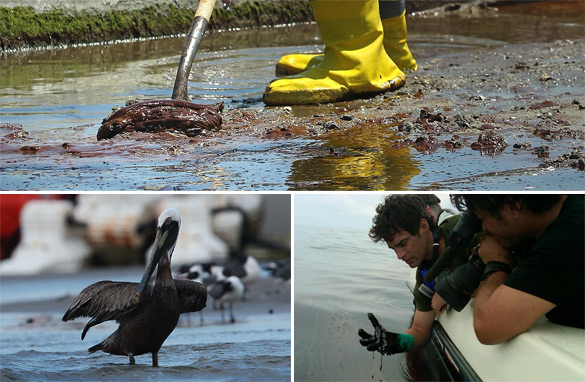 Editor's Note: Watch CNN's "American Morning" on Monday from 6-9 a.m. ET for the latest reporting live from the scene of the Gulf Coast oil spill disaster. (Photos: Getty Images and Tracy Sabo/CNN)"
(CNN) – BP has measured "some success" in the Gulf of Mexico with a risky procedure known as "top kill," which has never been tried before a mile under the ocean's surface, the company's top executive said Friday.
The oil flow stopped when heavy drilling mud was being pumped into the well at high pressure, but it was too early to tell whether the operation will be able to permanently keep oil from gushing out, said Tony Hayward, BP's chief executive officer. The oil giant plans to resume pumping mud later Friday.
"Clearly, while we're pumping mud there is no oil and gas coming into the sea," Hayward said. A live video feed from the ocean floor showed a thick brown stream gushing into the water. That material was almost all nontoxic, water-based mud - not oil - he said. Read more