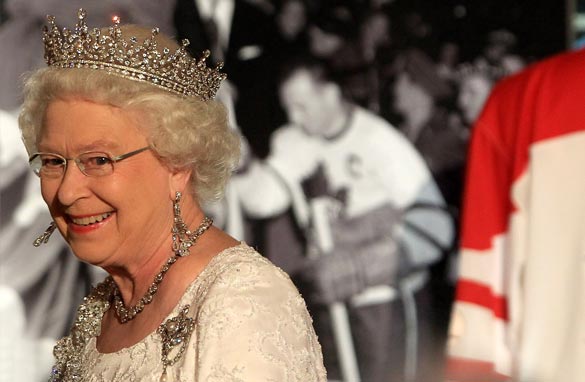 Queen Elizabeth II attends a dinner at the Royal York Hotel on July 5, 2010 in Toronto, Canada. (Getty Images)
(CNN) – New York City will have a regal look today as Queen Elizabeth II makes her long-awaited return. It's been more than 30 years since Her Majesty last hit Manhattan, and her five-hour-tour will be jam packed. The queen will make her first address to the United Nations in 50 years and her first-ever visit to Ground Zero. Our Richard Roth reports on all the buzz and excitement that accompanies a royal visit. Watch

Britain's Queen Elizabeth II will address the U.N. General Assembly Tuesday afternoon, her first speech there in more than 50 years.
The queen has addressed the General Assembly only once before, in 1957.
The queen will also visit Ground Zero on Tuesday evening to lay a wreath at the site of the September 11, 2001, terror attack.
She will address the United Nations in her capacity as head of state of 16 U.N. member states, the mission said in a news release.
Queen Elizabeth is head of state for the United Kingdom, Antigua and Barbuda, Australia, the Bahamas, Barbados, Belize, Canada, Grenada, Jamaica, New Zealand, Papua New Guinea, Saint Kitts and Nevis, Saint Lucia, Saint Vincent and the Grenadines, the Solomon Islands and Tuvalu.
The queen's July 6 speech comes at the conclusion of a trip to Canada with her husband, the Duke of Edinburgh.