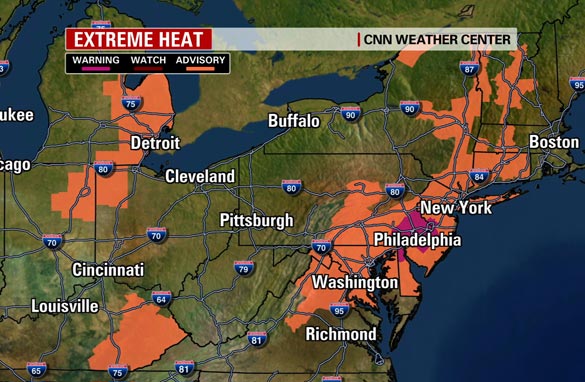 (CNN) – A scorching, record-breaking heat wave continues to roast much of the Northeast, with the National Weather Service keeping in effect heat advisories in the region until Wednesday evening. In addition, the service has issued an "excessive heat warning" until 8 p.m. Wednesday for Philadelphia, Pennsylvania; Trenton, New Jersey; and parts of Delaware. Our Jason Carroll reports on the sweltering, triple-digit temperatures causing grief across the East Coast. Watch

Officials are advising people to stay indoors as the prolonged heat and humidity creates a "dangerous situation."
Already, the heat has claimed the life of an elderly woman in Philadelphia - where temperatures hit 102 degrees Tuesday.
The temperature also topped the century mark in Boston, Massachusetts; Washington and New York - where it hit 103.
Amidst the oppressive 100-degree heat, as many as 9,000 customers of Connecticut Light and Power in Stamford, Connecticut, were without electrical service Tuesday. A heat-related transformer failure at a substation in Stamford caused the outage, said a spokeswoman for the power company.
In Middletown, Connecticut, police issued summonses for second-degree reckless endangerment to two high school football coaches who held a grueling practice in the heat, leading one student to collapse.
The assistant football coaches at Middletown High School staged a "strength and conditioning session that consisted of weight training and running" from 6 p.m. to 8 p.m. Tuesday evening, the Middletown police said.
A student passed out during a phase of the running that involved "sprinting up a hill several times," police said.
New York set up as many as 400 cooling stations in its five boroughs, according to the Office of Emergency Management. OEM Commissioner Joe Bruno urged people to utilize the center, and advised neighbors to check on neighbors to make sure they are well.
"This is a significant health emergency as well as a heat emergency," Bruno said.
The 92-year-old woman who died in Philadelphia was found in her home by a neighbor. The woman had opened a few windows in her home but did not have air conditioning, said a medical examiner's spokesman.
"Be sure to check on your elderly relatives and neighbors. Coaches, trainers, camp counselors should remain alert for signs of heat exhaustion and heat stroke," the weather service warned.
CNN's Jason Kessler contributed to this report.