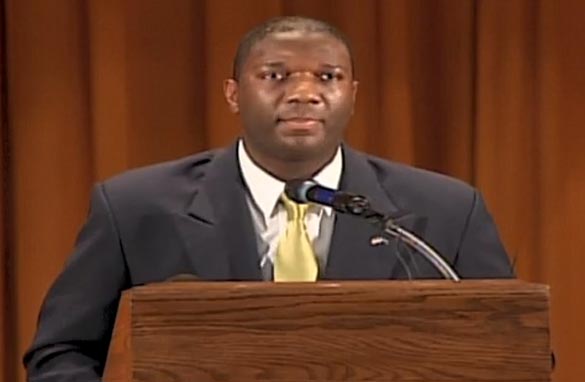 (CNN) – South Carolina's surprise Senate candidate has survived his first stump speech. Alvin Greene told voters Sunday why they should send a 32-year-old, unknown, unemployed military veteran to the United States Senate. While there were a few moments that had people thinking..."awkward," there were others in the crowd wondering if maybe this wasn't such a bad idea after all. Our Jessica Yellin was there for the big debut. Watch

South Carolina Democratic Senatorial candidate Alvin Greene urged voters Sunday to "get South Carolina and America back to work" in his first major public speech since surprising the political world last month by capturing his party's nomination.
"My campaign is about ... moving South Carolina and America forward," the 32-year-old Greene told a friendly audience in his hometown of Manning during a brief, halting speech that at times jumped from one topic to the next.
The speech, given at a meeting of the local chapter of the NAACP, was voters' first glimpse of Greene's campaign vision as he mounts an unlikely challenge against Republican incumbent Sen. Jim DeMint.
"South Carolina and America cannot afford six more years of my opponent," Greene said of DeMint. "We cannot let my opponent keep this country hostage."
Greene, while touching on a variety of issues including the state's education system, unemployment numbers and road projects, did not offer specific ideas for how he would make changes in those areas.
"Now is the time to implement alternative forms of energy such as solar, wind and methane," he said of his energy platform. "These efforts will create green jobs and save Americans money. For example, Americans can save money on their electric bill and at the gasoline pump."
Of education, he said: "We need better education for our children. Parents need to take a more active part in their child's education - especially parents of under-performing students. ... Instead of doing less for education, we ought to be doing more."
Greene's victory in the June 8 primary shocked many political observers since he had not actively campaigned for the nomination and he had no political experience.
His financial situation also caused him to come under scrutiny when he was faced with questions about how as an unemployed veteran he could afford the $10,440 filing fee required to enter the campaign. He has said it came from savings he accumulated while serving in the military.
Last year, he also said he could not afford a lawyer to defend himself on charges of showing pornographic messages to a college student. He has not entered a plea in that case and has previously told CNN he is innocent until proven guilty.
After an investigation, the South Carolina South Carolina Law Enforcement Division on Friday cleared Greene of any wrongdoing in acquiring his campaign filing fee.
"During the course of the investigation, SLED determined that monies spent for Greene's filing fee were the candidate's personal funds and therefore, no laws were violated in association with Greene's payment to the South Carolina Democratic Party," the agency said in a statement Friday.