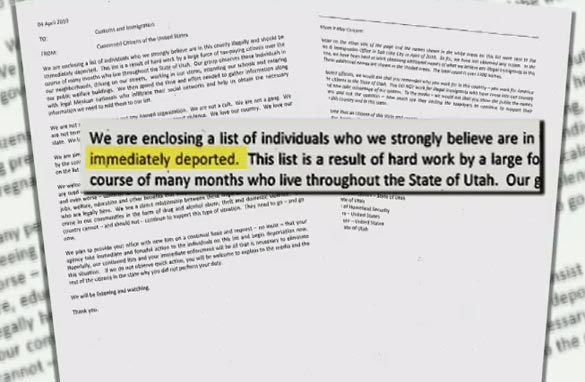 (CNN) – Arizona's controversial immigration law is set to take effect on Thursday. Just over the state's northern border, one Utah lawmaker's pushing ahead with a similar bill for his state. Two Utah state employees were just fired for a now-infamous immigration list. It had names and information of 1,300 Utah residents, all accused of of being there illegally. The debate is starting to divide the state, so our Ted Rowlands went to Salt Lake City for this AM original report. Watch
The Utah attorney general's office has announced a criminal investigation into the leak of immigrants' personal information.
Officials say two Utah Department of Workforce Services employees are believed to have created and distributed a list that contains information on 1,300 purported illegal immigrants. The attorney general's office launched its investigation Wednesday.
Officials said that some people on the list are in the United States legally. The list was distributed anonymously last week to media, local law enforcement and the governor's office.
Dave Lewis, a spokesman for the Utah Department of Workforce Services, said that one of the employees - a temporary worker - has been terminated. The agency issued an "intent to terminate employment" notice to the other employee.
"The other person (is) a longer service employee who has merit status," Lewis said Thursday. "We have certain protocols that we have to follow. She has the opportunity to grieve this and have a hearing with our executive director to tell her story and make her case" before termination.
The agency declined to identify either of the employees.
In a statement this week, Kristen Cox, executive director of Utah Department of Workforce Services, said staff members are carefully trained on the appropriate use and dissemination of private data, as required by federal laws and regulations.
"We carefully protect the personal information that we gather, and take very seriously breaches of that public trust," she said. "The list contained inaccurate information and undermines the need to maintain confidentiality and adhere to the due process rules of our country."
The list accompanied a letter from "Concerned Citizens of the United States" insisting that those named should be deported immediately.
Utah Gov. Gary Herbert told CNN's John King last week that the 1,300 people have Hispanic names.
Utah Attorney General Mark Shurtleff has said the incident may have broken state and federal privacy laws, and may have involved felonies, so a multilevel investigation may be required. He added that crimes may have been committed not only in generating and preparing the list but in how the list was used.
Some of the people have reported harassment since their names appeared on the list.
"Clearly, it's not even meant as a blacklist. It's more like a hit list," Shurtleff said this week. "It is, I think, to put people at fear, to terrorize, to get people mobilized to do things. The fact is, the names on that list are also innocent until proven guilty, and we're finding that some of those names ... are here legally."