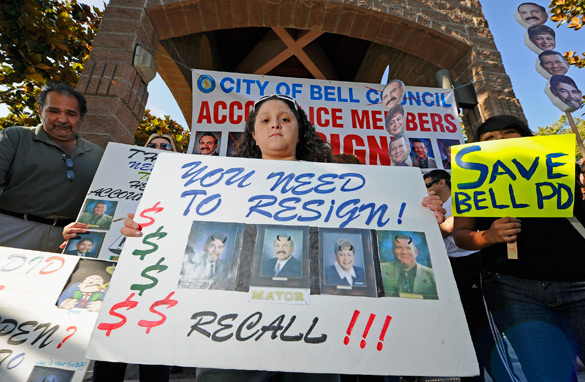 Ten-year-old Briana Esqueda holds a protest placard on July 26, 2010 in Bell, California. (Getty Images)
(CNN) – More heads are rolling in Bell, California where local officials in the blue-collar town were paying themselves insanely large salaries. So far, the city manager, assistant city manager and police chief have resigned. Those three officials, combined, were making $1.6 million a year. Now, the city council is slashing its pay and the mayor is finishing his term for free. Our Ted Rowlands has the latest. Watch

City council members in the small California town of Bell - where outrage over high salaries forced three officials to resign last week - voted Monday night to slash their pay.
And the mayor, who last week defended the salaries, said he would forgo a salary altogether and would not seek reelection.
But the move was not enough to appease angry residents who demanded that the council members step down.
"You all need to go to jail," a self-described underpaid teacher said at a contentious meeting Monday night. "Shame on you. All of you."
When Councilwoman Teresa Jacobo said she will slash her salary but hold on to office, the crowd booed loudly and repeatedly.
"If you don't want to resign, we'll recall you," said one man.
The city council voted to reduce its pay to that of what one councilman, Lorenzo Veles, was being paid: $8,076 a year.
Most of the other council members made nearly 10 times as much.
The Bell salaries have provoked statewide anger at a time when California is grappling with a near $20 billion budget deficit.
The median annual income of Bell - which counted about 36,000 residents in the 2000 census - is less than $35,000.
Like Mayor Oscar Hernandez, another councilman George Mirabal said he will not seek reelection.
Said the mayor in a statement: "We must restore Bell's pride in our city and that requires a full, transparent, and deliberate review of the city's actions."
Last week, the city council accepted the resignations of City Manager Robert Rizzo, Assistant City Manager Angela Spaccia, and Police Chief Randy Adams, who reportedly had a combined salary of more than $1.6 million.
Also on Monday, California Attorney General Jerry Brown, who is running for governor, said he subpoenaed hundreds of records from Bell as part of an investigation to determine whether civil or criminal action should be taken against any city leaders.
Brown said most city council members are paid some $100,000 for their part-time positions, citing the Los Angeles Times - which initially reported on the salaries.
"These outrageous pay practices are an insult to the hard-working people of Bell and have provoked righteous indignation in California and even across the country," said Brown.
He added his office will review salaries in other jurisdictions around the state to see whether similar abuses might be happening elsewhere.