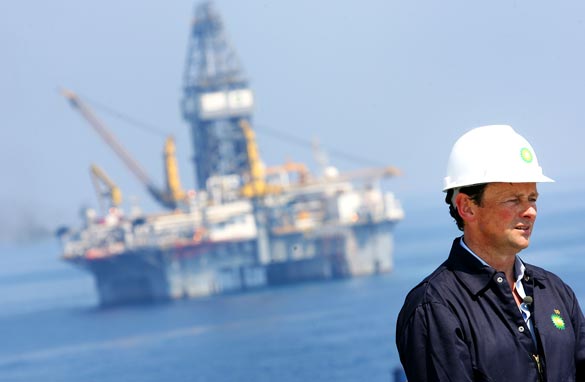 BP CEO Tony Hayward stands on the deck of the Discover Enterprise drill ship during recovery operations May 28, 2010 in the Gulf of Mexico. (Getty Images/File)
(CNN) – BPs embattled CEO is out. Tony Hayward, the executive who said he wanted his life back, got his wish earlier this morning. He'll be replaced in October by American Robert Dudley. The oil giant's second quarter earnings are also out this morning. BP is reporting a bruising $17 billion loss.
Back in early May, our David Mattingly conducted a never-before-seen interview with Hayward at the beginning of the response effort. Watch
Since he was thrust into the spotlight, Hayward has made a number of high-profile gaffes that critics say illustrated his lack of sensitivity for those hurt by the spill. In May, he botched an expression of sympathy by saying he'd like his life back, a slip for which he later apologized.
Hayward said in a statement that the oil disaster was "a terrible tragedy" for which he would "always feel a deep responsibility, regardless of where blame is ultimately found to lie."
Given his recent performance, compensation experts say he will probably not receive the lucrative cash bonuses or stock awards given to many outgoing executives at comparable U.S. corporations.
According to BP's most recent annual report, Hayward amassed a pension worth nearly $17 million in his 28 years of service, which is expected to be doled out in annual payments of more than $900,000. It is unclear however, if Hayward, who was born in 1957, will be eligible for retirement benefits before he turns 60 years old.
Hayward, who grew up outside London, joined BP in 1982 after completing his Ph.D. in geology at the University of Edinburgh the same year. After stints on BP projects in Europe, China and South America, he was made a company director and returned to London in 1997.
He moved up the corporate ladder in the years after BP merged with Amoco in 1998, creating what was then the largest company in Britain. He took over as CEO in 2007.