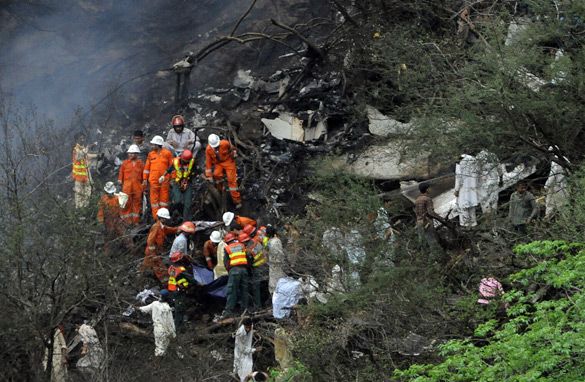 Pakistani rescuers search for bodies in the wreckage of a plane crash on the outskirts of Islamabad on July 28, 2010. (Getty Images)
Islamabad, Pakistan (CNN) – No one survived the crash of a Pakistani passenger plane that went down in the outskirts of the capital Islamabad Wednesday morning with 152 people on board, officials said.
Rescuers worked in heavy rains to recover bodies from the wreckage, as officials launched an investigation to determine why the accident occurred.
Crews combing through the debris have recovered a so-called "black box" - which is actually orange - that is either the craft's flight data recorder or cockpit voice recorder, according to Wajid Shamsul Hasan, Pakistan's ambassador to the United Kingdom. Information from the recorder will help authorities determine the cause of the tragedy.
Initially, Pakistani Information Minister Qamar Zaman Kaira and Interior Minister Rehman Malik reported survivors in the crash. Kaira said there were eight survivors and Malik said there were six. Full story
Passenger skipped flight