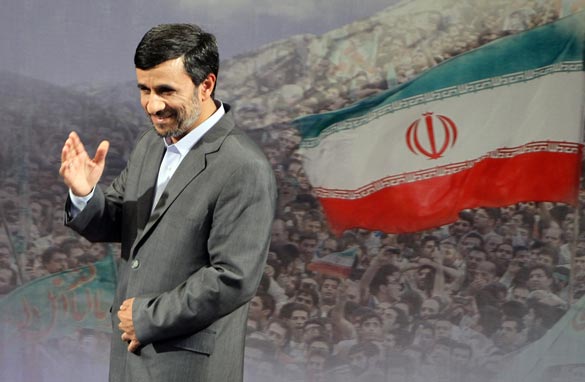 Iranian President Mahmoud Ahmadinejad in Tehran on June 28, 2010. (Getty Images/File)
By Reza Sayah, CNN
(CNN) – A grenade exploded near the convoy of Iranian President Mahmoud Ahmadinejad during his visit to a western Iranian city Wednesday, according to Iran's semi-official Fars News Agency and other outlets.
Ahmadinejad was unhurt, the reports said. However, the media department at Iran's Presidential Office denied he came under attack. Despite the denial, there was an account about the incident on Raja news, Ahmadinejad's official Web site. Watch

The site reported there had been a grenade attack and quoted from the Fars News account. Someone lobbed a homemade grenade just after the president's motorcade went by, Fars reported.
The suspect was arrested, according to both reports.
The grenade exploded during the president's visit to Hamedan, reported parlemannews.com.
The account was also carried by the conservative website Khabar Online.
The presidential convoy was headed from the airport to the city's sports stadium.
The reports also said that Ahmadinejad warned on Tuesday that "Zionists" were plotting to kill him. Iran uses the word "Zionists" to refer to Israel.
White House aides are aware of the conflicting reports, according to a senior U.S. administration official, and were seeking more information to sort out what happened.
CNN's Ed Henry contributed to this report