The last combat troops may be pulling out of Iraq but more soldiers are heading to the other war in Afghanistan. The clock is ticking to stabilize Afghanistan so U.S. troops can meet the president's goal of withdrawing next July.The success of that mission belongs to unit's like the one Sgt. First Class Randy Shorter is part of. They are combat infantry, part of the final surge deploying to the region.
As part of my ongoing series 'A Soldier's Story' we'll be following shorter and his unit as they head into arguably one of the most dangerous parts of the country: Paktika province. I will be departing for Afghanistan tomorrow with Sgt. Randy Shorter. We'll be there with him from the moment he says goodbye to his family and stay with him as he lands in the Paktika Province of Afghanistan for his third combat tour of duty. Located in the southeast, Paktika is a place where attacks by insurgents is a major problem. Their mission: Rebuild infrastructure, help teach the Afghan people how to police themselves, and fight insurgents. Sgt. Shorter and his unit were last deployed there in 2008. Watch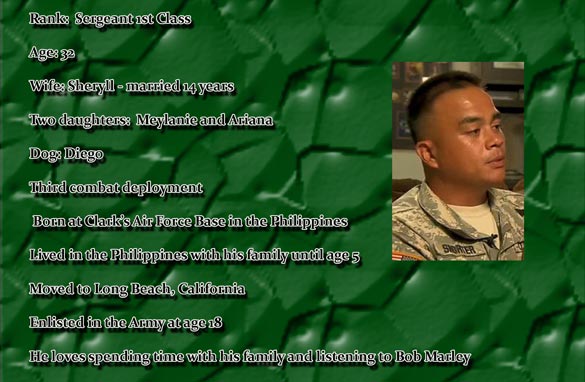 That's when Shorter's skills were put to the test when a vehicle in his caravan hit a roadside bomb... Insurgents opened fire. Shorter rescued the wounded, while returning fire.
He received the silver star for bravery during that mission.
Now Shorter and his unit are headed back to pick up where they left off.
As a 14 year veteran of the army, this is Shorter's third combat tour of duty. He'll be away from his wife Sheryll, and daughter's Melanie and Ariana for one year. It's an especially difficult mission because in his heart, shorter is a family man.
He married his high school sweetheart soon after graduation, around the same time he joined the army.
Filipino-American, Shorter came to the united states with his family when he was five, one of three kids who grew up in Long beach, California.
His dedication to family and country inspired him to join the army.
As we follow shorter in the series, we'll explore what its like for soldiers like him: Men and women who have had deploy multiple times to combat zones. We will also chronicle his family's life back at Ft. Campbell in Kentucky as they deal with the reality of another year without the man they love.
I'll be on the front lines with Sgt. Shorter for a few weeks, as he lands in the Paktika province in southeast, Afghanistan. Like we've done with the other soldiers in my series, we'll be following shorter for an extended period of time to get a better sense of military life on...and off duty. Catch their stories on our AMfix blog, CNN.com and CNN's American Morning in September.