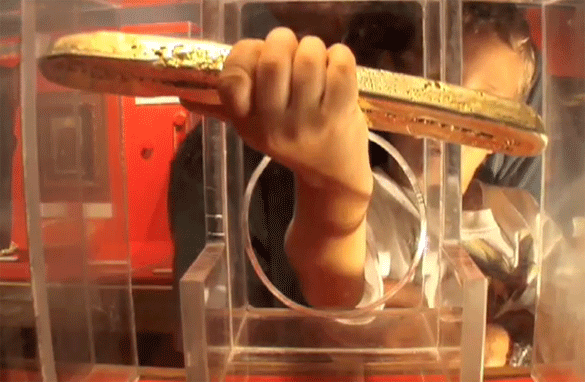 (CNN) – It's been nearly a week since two modern-day pirates walked into the Mel Fisher Maritime Museum in Key West, Florida, and made off with a $550,000 gold bar. Clear video images of the suspects and a reward that's grown to $25,000 haven't yet brought a break in the case. Our John Zarrella digs deeper. Watch

"This isn't like on television," said Melissa Kendrick, executive director of the the museum. "It doesn't get solved in 22 minutes and a commercial."
Key West Police and the FBI have been working around the clock to solve the mystery, Kendrick said Tuesday. "We are deeply grateful."
For 25 years, visitors to the museum in Key West, Florida, had the opportunity to lift the glittery piece of treasure in a special display case. No visitors or security guards were in the room the afternoon of August 18 when the gold bar was taken, but a video camera was.
"We're hoping someone will see that footage and help us with a lead," said Key West Police spokeswoman Alyson Crean.
In the video, one of the two thieves approaches the case, does something and then walks away. While the security guard is out of the room, he comes back, breaks a piece of the case near an opening and removes the bar. He sticks it in his pocket and walks out.
"This is going to end up in somebody's house probably used as a paperweight," said Police Chief Donie Lee. "Other than melting it down, which is the worst-case scenario for everyone."
The bar was recovered by treasure hunter Mel Fisher and his crew in 1980 from the shipwreck of the Santa Margarita, which sank 25 miles west of Key West. The Santa Margarita is the sister ship of the storied galleon Atocha, also worked by Fisher. The ships sank in 1622.
The museum's 16.5-karat gold bar weighs 74.85 ounces. The uniqueness of the piece places the bar's value at $550,000, Kendrick said.
Fisher, who died in 1998, loved having the bar in a special reach-in case because it allowed visitors to make a connection with the find, she said.
An expert in the recovery of art and artifacts said the thieves likely made a huge mistake. The market is small for high-profile items with distinguishing markings.
"We recovered paintings and artifacts that were missing for many years," said Robert Wittman, founder of the FBI art crime team and author of "Priceless."
"They [thieves] kept them in their closets. They were white elephants. They made no money out of the deals. They were stuck."