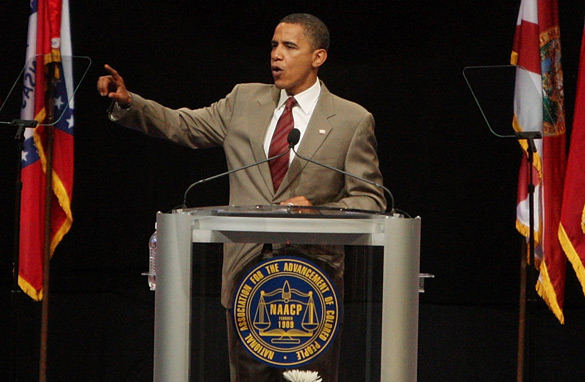 In this file photo, then-Senator Obama speaks to attendees at the 99th annual convention of the NAACP July 14, 2008 in Cincinnati, Ohio. (Getty Images)
President Obama will be in New York tonight to address the NAACP convention, which marks their 100 year anniversary. It's a major address by the nation's first African-American president.
Just last year as a candidate, Barack Obama was both deferential and defiant before the civil rights group.
"I know there's some who been saying I've been too tough talking about responsibility. I'm here to report I'm not going to stop talking about it."
Taking on some of his African-American critics, President Obama delivered a message of tough love, echoed just last weekend in Ghana.
"We all know that the future of Africa is in the hand of Africans."
The historic election of the United States' first African American president highlights the NAACP's role in fighting for equality and opportunity.
NAACP President Ben Jealous says, "This is a big step that we've taken, having a black family in the White House, ending that 233-year-old color barrier. But there's a lot more work that needs to be done."
This after former President Bush kept the NAACP at arms length, declining their invitations to address them for 5 years.
Commentary: The NAACP at 100: Much more work to do
What do you think? Has President Obama met the Black community's expectations? What is the future of the NAACP? Has it achieved its goals? Tell us your thoughts.